Discover Us
Once Tried Always Trusted
"A Multidisciplinary Creative World"
We have strong network across globe, and we work together to collaborate, design & produce work that we are proud of, for folks that believe in.
Providing top notch exporting and importing
services across the world
Trans India House Impex Ltd (TIHIL) is a service-oriented export trading company providing domestic and international companies the opportunity to import and export products to new and existing markets.
Through comprehensive business relationships worldwide, varying from shipping logistics to government-backed trade finance, Trans India House Impex Ltd (TIHIL) has developed unparalleled networking capabilities for profitable international business.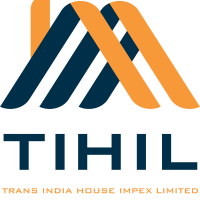 History
Trans India House Impex Limited (TIHIL), originally incorporated as GBC Hi-Tech (India) Limited on May 25, 1987, has been engaged in providing State of the Art products in Office Automation from leading sources in the world. The Company was primarily engaged in the manufacture of binders & consumables and trading of binding, laminating and shredding machines, digital duplicators and related supplies and parts. The name of the Company was changed to Modi GBC Limited on July 9, 1992 and again changed to GBC Modicorp Limited on July 13, 2000. The name was further changed to Spice Systems Limited on January 1, 2003. The name of the Company was changed to IO System Limited w.e.f. 14th August Month, 2007. Finally with new vision and new board of directors IO System Limited name was changed to Trans India House Impex Limited (TIHIL) w.e.f. 01st August 2022.
Business Plan
Export Setup
We have collaborated with Senegal Government and Local Wholesaler for future Export business post our penetration to market with Tiles and other building materials. To penetrate West Africa, keeping in mind of growth as an exporter we have committed to develop Markets of Senegal, Tuba, Gambia, Mali, Conakry, Ivory Coast, etc. with tie-ups.
Previously, in March we have established Two Warehouses and showrooms for building Materials, such as Ceramic Tiles of all Sizes, Sanitary ware, Bathroom Fittings, Granite, Bathroom accessories, etc. in Tuba, Senegal and Conakry coast.  
We have collaborated with Senegal government to fulfill requirements for agriculture sector (Tractors, Pesticides, mining machines, etc.), construction sector (Sand, Bricks, Tiles, steel, etc.) and FMCG sector (Rice, Spices, Oil, etc.), which in the time ahead will give us an opportunity to boost West African economy, and build a powerful trade relation between India and West Africa.
Retail Outlet Setup
As we thrive to build relation and boost our product varieties in new market, we have set up two outlets, which in return will boost our sales and connects to grow our business overseas.
With rich experience and R&D of West African market, we have forecasted that having outlets will make consumer and customer attract to purchase anything and everything from one place. Which in turn will boost the brand building opportunity and will be easier for consumer and customer to demand at one place. We are in road to make the outlet as one stop go for Building Materials. Later with time, the same Model shall be opted for our other product lines in future.
Plan To Acquire A Corporate House For Operations
We are excited to announce that, due to our remarkable growth and market response, we are EXPANDING!
In the last few months we have been tirelessly working to have our global reach and here we are proud to announce that we are expanding our business with a new office location in the near future.
TIHIL is planning to acquire a corporate house in Ahmedabad, which is a property under construction. Thankful to the wonderful stakeholders like you, we have outgrown our current workplace and have found a modern space that matches our ambition.
Our new facility will offer us the opportunity to better serve our loyal customers and work with our valuable business partners.
New Product Launch Of Rice
As to increase the Product range, we have collaborated with Senegal counterpart to launch our new product "Rice" keeping in mind the opportunity of expansion.
West Africa faces a structural rice deficit, and the region increasingly relies on imports. Indeed, the increase in production is not able to keep pace with the sharp increase in rice consumption. The share of imported rice in total consumption increased from 20% in the 1960s to 46% in 2009. However, rice import dependency has increased in all other West African countries in last one decade. After China, West Africa therefore remains the second biggest rice importer in the world.
Hence, the new launch of rice brand shall make an impressive mark and would give us good result apart from our other specialized products.
As I look forward to throw a light on the Company's future planning, I would hereby like to draw your attention towards the fact that as the Company has a backlog of accumulated losses since years that was pre-existing before the takeover. In response to which, the new management is giving its best possible input for bringing an evolution in the Company by making it actively involved with the new
business line.
The initial step to bring such evolution has started with the alteration in the name and object of the Company in reference to the previous EGM held on 25th July, 2022; and the same has been duly altered with your valuable support.
Keeping in mind the benefit of all the stakeholders, it's our duty to work towards the best possible roadmap to come up with the losses and draw the Company in the direction of progress with the above stated arrangements; in order to fulfil the aims and aspirations of the business envisioned
We welcome you on behalf of Trans India House Impex Limited (TIHIL), formally known as IO System Limited, and thank you for showing interest in us.
For Years TIHIL has been into the Merchant Trading and Import-Export world.
By associating with TIHIL you are embarking on a company that is meant to transform globally.
Excellence and value are guiding principles, which are reflected in our company.
We aim to enhance the quality of governance with our holistic approach.
We contribute for sustained social development and respond to customer satisfaction by our team's skill and reliable resources.
By using external and peer benchmarks, we identified gaps and developed a more integrated and holistic set of goals and targets to drive sustainably further into our core business process.
We welcome you on behalf of Trans India House Impex Limited (TIHIL), formally known as IO System Limited, and thank you for giving regard to us.
Our vison is to make India an International export power house, by effectively promoting and representing every sector and contributing overall growth of economy. The mission is to recognize traders round the globe in their quest to expand .To give people the power to build community and bring the world closer together.
Engage in trade with focus on Quality services to customer's & Professional competence.
Develop new markets, products and expand business.
Serve as effective instrument of public policy and social responsibility.
Be a successful International trading company, lean, flexible and capable
of providing total integrated services to the customers in the changing environment.
Customer Satisfaction
Passionate About Excellence
Concern for Environment and the Community
Ceramic Tiles
Packaging
Textiles
Dehydrated Products
Rice
1987
The Company was incorporated on 25th May, and received the certificate of commencement of business on 20th October. GBC Hi-Tech (India) Limited is a Public Limited Company. The Company is engaged principally in the manufacture and distribution of Punching & Binding Machines, Laminating Machines and the related Supplies and Parts.

The Company has been promoted by Mrs. Veena Modi and others of Indian Management Advisors & Leasing Private Limited in Collaboration with General Binding Corporation, USA.
1991
The Company entered into Technical know-how and Trade mark Licence Agreement on 19th January, 1988 with General Binding Corporation, USA, who are world leaders in Spiral Punching and Binding, Machines as well as Laminators. The Company has set up an excellent field sales and support staff to meet the varied needs of the customers.
1992
During the year the Company received sanction from the Controller of Capital Issues for issues of 23,50,000 No. of Equity Shares of Rs.10/- each for cash at par amounting to Rs.2,35,00,000/- out of which 9,40,000 Shares of Rs.10/- each were reserved for foreign collaborators, while 8,10,000 Shares were reserved for Indian promoters.
Further 1,17,500 No. of Equity Shares of Rs.10/- each were for preferential allotment to the employees (including Indian Working directors), workers of the Company and those of the promoter companies out of the public quota of 6,00,000 No. of equity shares. After the close of the year the Company has allotted shares aggregating to Rs.2,35,00,000 thereby increasing its paid capital from Rs.65,00,000/- to Rs.3,00,00,000/-.
1993
The Company has been sending Engineering and Manufacturing personnel for training at Collaborators plants in USA, Mexico and Germany.
1994
The Company has exported more than 2400 Units of 450 KM Purchasing & Binding Machines to General Binding Corporation for their International Markets.
1995
The Company is proposing to issue and allot 5,00,000 Preference Shares of Rs.100/- each subject to the shareholders approval to meet the growing working capital needs on private placement basis.
The Company has been able to develop inhouse expertise in a number of high-tech areas resulting in imports substitution.
1997
The Company had allotted 2,50,000 preference shares of Rs. 100/- each amounting to Rs. 2.50 Crores after receipt of RBI approval during the year.
The Company is proposing to issue and allot 1,55,00,000 shares of Rs. 10/- each subject to the shareholders approvals and others approvals, if any to meet the growing working capital needs of the company.
1998
The Company intends to issue and allot 1,39,00,000 No. of equity shares of Rs.10/- each aggregating to Rs. 1390 lacs on preferential basis to M/s General Binding Corporation, USA and/or its subsidiaries and associates and M/s Modifin Pvt. Ltd. and/or its associates in equal proportion.
The Company shall redeem 5,00,000 non-convertible cumulative preference shares of Rs.100/- each aggregating to Rs.500 lacs held by both the joint venture partners and their associates equally, and the proceeds of redemption shall be applied towards subscription of the proposed preferential issue of equity shares and the balance shall be subscribed by the joint venture partners in cash.
The Company has been able to develop inhouse expertise in a number of high-tech areas resulting in imports substitution.
2000
The Name of the Company has changed from Modi GBC to GBC Modicorp Ltd.
GBC Modicorp Ltd has informed BSE that Dr Sanjeev Gemawat, Company Secretary has resigned from the company. The said resignation was accepted by the Board at its meeting held on May 03, 2002.
GBC Modicorp Ltd has informed that the following change have been made, appointment of Mr Arun Seth as Director and Chairman of the Company in place of Mr Om Prakash Dani.
2005
GBC Modicorp has acquired 50.11% stake of Spice Net Ltd
2007
Company name has been changed from Spice Systems Ltd to IO System Ltd.
2008
The company has designated E-mail ID for Investors Complaints: arunseth@spicelimited.com.
2013
Registered office of the company has been shifted from E-53, Sector-3, NOIDA (U.P) - 201301 to Global Knowledge Park, Plot No.19 A & 19 B, Sector-125. NOIDA (U.P) -. 201 301.
2022
Beginning of a new Journey
6th May, 2022 Takeover of IO SYSTEM LIMITED by new promoters vide open offer by Mr. Irfan Qureshi, Mr. Mayank Jolly & M/s Nisha Securities Limited
Introduction of new management-Mr. Irfan Qureshi, Mr. Mayank Jolly & Mr. Mitesh Rajput as directors on board.
Diversification & expansion of the Company with specialization in dealing of products and services like ceramic, dehydrated food products, logistics, textiles and more products in line.
Change of Name to "TRANS INDIA HOUSE IMPEX LIMITED", alongwith change in the object of the Company, pursuant to the EGM held on 25th July, 2022.
Years of Collective Management team Experience
Years, Trading, Investing in Global Market
Manufacturing Unit Acquired